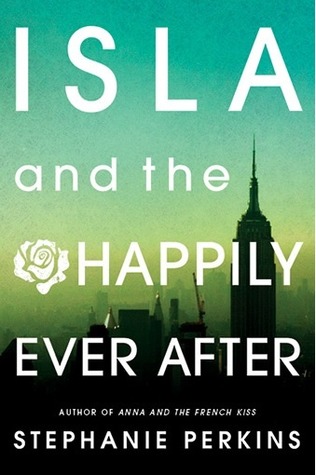 Isla and the Happily Ever After
by
Stephanie Perkins
Publisher: Dutton Publishing
Series: Anna and the French Kiss, #3
Genre: Contemporary, Romance, Young Adult
My rating:
4 of 5 stars
ACTUAL RATINGS: 3.5 STARS
Isla and the Happily Ever After,
true to its title, is a perfect happily-ever-after to Isla and Josh's love story and a perfect ending to the whole series. Stephanie Perkins never fails to create adorable yet relatable characters and plot. However, in this third and final installment,
something
was definitely missing.
I avoid comparing books to its predecessor, but in this case it will certainly help me identify what has gone wrong with Isla's story (atleast in my opinion). In
Anna and the French Kiss,
I saw, even felt, the moment Anna and Etienne fell in love with each other. I didn't see that in Isla and Josh. One moment Isla was obsessing over him, the next moment they're already dating. The attraction and chemistry was there but their relationship felt underdeveloped. There were also a lot of scenes that I thought were so adorably cute and perfect but everything happened so fast that it has lost its overall effect. I think Stephanie Perkins wanted her readers to think that Isla and Josh's relationship was
kismet
or fate, but to me it felt like it's just another case of
insta-love.
Another reason for my 3.5 rating is because I don't think the story flowed well. It started when Isla became so insecure about herself and her relationship with Josh. I don't have anything against her issues in life, I actually think that's what this book is all about - Isla falling in love and learning to know her worth - but the moment she let her insecurities ruin her relationship with Josh, the storyline became so
messy
that I found it so easy to put the book down. That, was definitely a
bad sign.
Sure, I could list a lot of things that I liked about this book. One was Josh himself; I liked his character way better than Etienne and Cricket. He's so passionate, driven, and very romantic. I also liked the sweet things that he and Isla did to show their love for each other; the drawings, surprises, etc. The "reunion" near the end was also beyond perfect. However, these positive points weren't enough to make me overlook the negatives.
Overall, I loved this book but sadly it's not going to be one of my favorites. It could've been
soooo
much better. Anyway, it worked for a lot of readers so if you're okay with its almost-insta-love romance it will definitely work for you, too. :)
View all my reviews