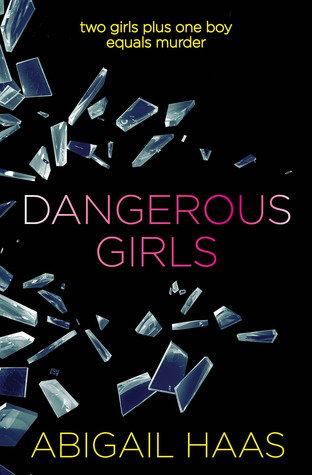 Dangerous Girls
by
Abigail Haas
Publisher: Simon & Schuster
Series: Standalone
Genre: Young Adult, Mystery, Thriller
My rating:
5 of 5 stars
ACTUAL RATINGS: 4.5 STARS
***CLICK to join the Dangerous Girls discussion and share you thoughts, questions, and theories***
WOW. SO WICKEDLY BRILLIANT.
My mind is reeling from the sheer mindfuckery of this book. The ending made me feel so...
uneasy.
I need people to discuss it with. I need more details about the crime. Heck, I need more details about
everything.
I had hunches, but I discounted them after every twist. At first I thought it was Tate who killed Elise. Then Niklas. Then Juan. Then I saw Anna from other people's perspective (the Clara Rose Show) and I felt
ill.
What if the psychologist was right? What if all along I was reading from a murderer's POV? But then I got distracted again and my full attention was diverted to Mel, then back to Tate, who I strongly believed was the real suspect... until that ending.
God. THAT ending.
"I win."
These whispered words sounded so cold that I had chills. In the story, Anna was betrayed by her boyfriend and girlfriend but after reading these words I felt like
she also betrayed me.
I was so confused, so undone.
Why, Anna? I thought you're not guilty?
I had to go back and read the book again to look for clues and these are what I found:
"They say a picture is worth a thousand words, but these only have one: Guilty."
"If Elise is the cause of everything that's happened to me, then I'm to blame for her fate too."
"I can hardly bear to look at them. Every part of my body feels wired with a terrible rush of shock and adrenaline."
"The truth is, once Dekker got it in his head that the break-in was staged and one of us killed her, there was nothing I could do. He was coming for me, and every little detail of my life was evidence, if you held it up to the light and looked at it just right."
"Come on," he says, smiling, and I follow him across the room.
I would follow him anywhere.
"He takes my hand, kissing it. It's a familiar gesture, something he must have done a hundred times, but this time I want to pull away."
"I fight the image of them together, sprawled, laughing."
"Dekker: And Mr. Dempsey. How would you characterize his relationship with Miss Warren?
Anna: They didn't have one. I mean, they were friends. We all were."
"And Elise took her reasons to the grave. So I don't get my answers."
"After everything, I know how important a single shot can be, the story that can replace facts and hard evidence with just a single, perfect frame."
"If only she'd been true to me. If she'd only known what she was bringing on herself, maybe she would have thought twice. Instead, she had to go and break my heart."
...Did Anna ever say she's not guilty? Verbally, yes. She'd been telling her friends, her lawyer, the court, that she's innocent. But did her
innermost self
ever claim she's not guilty? As a narrator, did she outright lie to her readers?... No. Now that I've finished rereading this book, I realized she never once said to herself "I didn't do it." She only showed us pieces of what really happened, what she wanted us to see.
This book is a very well-written, mind-fucking mystery-thriller novel. One of the books I will never forget. Go READ IT.
View all my reviews