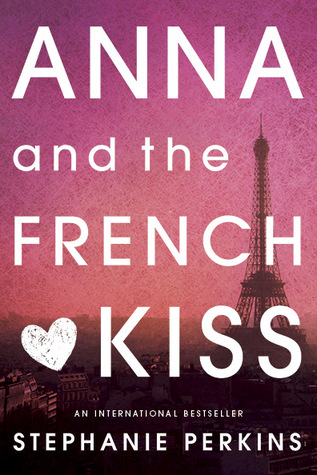 Anna and the French Kiss
by
Stephanie Perkins
Publisher: Dutton Juvenile
Series: Anna and he French Kiss, #1
Genre: Contemporary, Romance, Young Adult
My rating:
5 of 5 stars
ACTUAL RATINGS: 4.5 STARS
To be honest, I've been avoiding this book since the first time I heard about it because I found the title and the 1st edition cover a bit mortifying. I was incredulous. I was like "Oh God, this sounds like there's gonna be some french kissing action under the Eiffel Tower and I'm not really in the mood for some cheesy romance thankyouverymuch."
To say that this book surprised me is an understatement.
I was captivated, impressed, and swept off my feet! I. LOVED. IT.
PLOT & SETTING
Anna Oliphant's dad has decided to send her away to School of America in Paris (SOAP) for her senior year in high school. On top of the fact that Anna doesn't speak a lick of french, she's absolutely homesick and knows no one in Paris. However, things look up for Anna soon upon arriving at her school and she quickly discovers the delights of living in the City of Lights
"We turn a corner and—there it is—the River Seine. The lights of the city bob in the ripples of the water. I suck in my breath. It's gorgeous. And then, I see Notre-Dame. The building is like a great ship steaming downriver. Massive. Monstrous. Majestic.
I MUST say, Stephanie Perkins did a wonderful job in writing the setting and showing us the beautiful places in Paris through Anna. It really felt like I was walking along with her around her school, the streets of Paris, the River Seine, Cathédrale Notre-dame, and a lot more. I also liked the little details mentioned every now and then—the Parisian food, clothes, shakespeare, etc. The atmospheric setting is utterly engaging!
ANNA OLIPHANT
At noon, I follow the stampede to the cafeteria. I'm such a wuss. I'd rather starve than try to order in French. "Oui, oui!" I'd say, pointing at random words on the chalkboard. Then Chef Handlebar would present me with something revolting, and I'd have to buy it out of shame.
I found Anna's character incredibly easy to like. She's quirky yet endearing, shy with a sense of humor, flawed but genuine. Her voice is very honest and real, making her character so relatable.
ÉTIENNE ST. CLAIR
The line grows quiet. "Are you there?" I ask St. Clair."I'm here. I'm just sorry I'm not there. With you. I wish there was something I could do.""Wanna come beat her up for me?""I'm packing my throwing stars right now."
Étienne St. Clair is an American guy who has a British accent and a French name. He's THAT ridiculously attractive and popular guy in school who is liked by everyone—funny, polite and really
friendly
. To be honest, I am not very fond of extremely friendly main male characters because friendly guys means insta-friendship and insta-friendship means insta-love (you feel me?). Not that I'm into jerks, I just want them to be a little
aloof
and distant at first meeting. Thankfully, it takes some time before Anna and St. Clair become each other's
bestfriend
. And guess what, the slow transition is actually the best thing about this book! *le sigh*
ROMANCE
He looks up. Our eyes lock, and he breaks into a slow smile. My heart beats faster and faster. He sets down his book and stands. And then this—the moment he calls my name—is the real moment everything changes.
He is no longer St. Clair, everyone's pal, everyone's friend.

He is Étienne. Étienne, like the night we met. He is Étienne; he is my friend. He is so much more.
Actually, Étienne St. Clair has been attracted to Anna since the first day of school. Even so, their relationship doesn't feel instant or forced because of their genuine and slow-building friendship. Their camaraderie is so natural and palpably real. All throughout the story I was downright giddy and couldn't wipe the goofy smile on my face! It's been a long time since a contemporary novel did that to me. ♥
OVERALL
Anna and the French Kiss
is a brilliant YA (not NA) novel with utterly romantic yet realistic love story. I love everything about it—the atmospheric setting, the character development, the conflicts, and the friendship between St. Clair, Anna, Mer, Rashmi, and Josh. This is certainly one of my most favorite contemporary books of all time!!!
View all my reviews