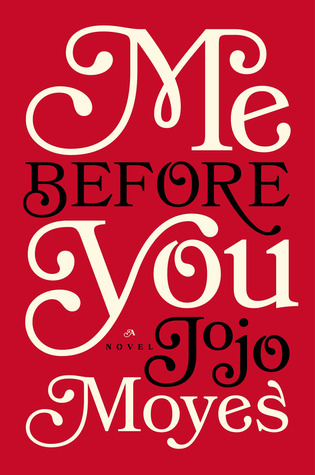 Me Before You
by
Jojo Moyes
Publisher: Pamela Dorman Books
Series: Standalone
Genre: Romance, Contemporary
My rating:
5 of 5
ACTUAL RATING: 4.5 STARS
I've read some reviews prior to reading this book and you know what?
Never let the negative reviews dissuade you from reading a good book.
Never ever. No matter how convincing, and how matter-of-fact they sound. Read the book, experience it, and see for yourself.
I admit before diving into this book I was quite apprehensive myself. But then I thought "F*** it!!! Even my favorite books receive negative feedbacks everyday. What do I have to lose anyway?" and so I read it.
It's one of the best
little
decisions I've made in my life.
I don't have any quotes or words of wisdom from the book to share. I was so emotionally invested that I didn't take much notice of the words, they seemed to blur a lot of times because my mind was reeling with despair, agitation, anger, and love. (Or maybe because I was crying?...)
I have my own share of things I disliked about this book.
But
, Louisa isn't one of them. I've read some readers hated her, calling her boring and stupid.
Here's my opinion:
I don't think it's stupid if a person still hasn't realized what to do with his/her life at the age of 27. Not impressive, maybe a little naive, but not stupid. It's not something you could schedule, is it? Also, I don't think she wasn't
living
her life just because she wasn't going out of town travelling, exploring, scuba diving, whatever. She finds happiness and contentment in simplest things. Will didn't give her a life, he only made her realize she could be more and
live more
.
Going back to the things I disliked,
(view spoiler)
[my stubborn self found Will's decision ruthless and a bit pathetic; my sensible self thought otherwise. Ruthless and pathetic, because he's so consumed by his old life that he didn't want to live any other ways possible, even with Louisa in it. Not ruthless and pathetic, because he was incurable and had been painstakingly living his life, everyday, since the accident. I'm not in the position to judge him and his decisions. I just wish... he chose to live longer with Louisa. (hide spoiler)]
You see, it's not easy reviewing this book because I'm well-aware of its flaws and things some readers may not like, but I want to commend this book for evoking strong emotions in me.
I'm recommending it to everyone, not to like it, but to
experience
it. :)</["br"]></["br"]></["br"]></["br"]></["br"]></["br"]></["br"]></["br"]></["br"]></["br"]></["br"]></["br"]></["br"]></["br"]></["br"]></["br"]></["br"]></["br"]></["br"]></["br"]></["br"]></["br"]></["br"]></["br"]></["br"]>
View all my reviews