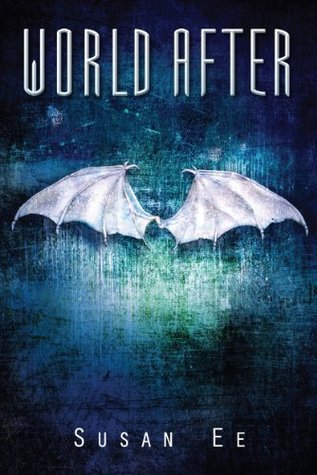 World After
by
Susan Ee
Publisher: Skyscape
Series: Penryn & the End of Days, #2
Genre: Dystopian, Paranormal
My rating:
5 of 5 stars
(Thanks to Amazon/Skycape Publishing for providing an ARC for review)
This review is nearly impossible for me to make because of the vast love I have for this book, the characters, and Susan Ee's writing. I am
madly
inlove with this series so I will do my best to review this book as eloquently as I can without being biased.
CHAPTER 1:
Everyone thinks I'm dead.
The first few words sucked me right back in into Penryn's apocalyptic world. It begins right where
Angelfall
left off─Penryn lying in the truck bed, being transported to the resistance camp with her mother and little sister Paige.
"And if there's one thing I know that a kid Paige's age shouldn't be doing, it's having to fight for her life while her big sister is around."
Penryn will always be my topmost favorite female character. She's a combination of witty, stubborn, levelheaded girl and she's fiercely loyal to her family. Although it seems her desperation to save Paige lessen slightly in this sequel (given how strong and dangerous Paige is now, capable of taking care of herself), their relationship remains as one of the most emotional and compelling elements in this novel.
I nod. "Good job, Mom." Kind of a disturbing eye-opener to realize that your own parent needs encouragement from you.
These are some of my favorite words from Penryn in this sequel. Her mom is as crazy as ever if not worse, but we come to learn that there's a hint of sanity and intelligence to her craziness. When Penryn complimented her, she was so happy it made my heart swell and break at the same time.
"I'm gonna be sick," I say.
"I'm ordering you not to," says Obi.
"Ah, don't say that," says Dee-Dum. "She's a born rebel. She'll puke just to make a point."
Can I just mention how much I love the humor in this series? Tweedle Dee and Tweedle Dum continues to be great purveyors of comic relief in this dark and gruesome tale. BUT you know what else has made me laugh so hard in this novel?
Pooky Bear
. I won't say much about her except she's one inanimate character I have learned to love.
THE REUNION:
Raffe's step falters and he pauses, staring at me.
Such simple words, yet heavy with emotions and a billion other things. I was drowned under the weight and intensity of it that I stayed on this part for too long, rereading as many times as I could before moving on to the next page.
Oh Raffe, you being immobile is enough to render me completely stupefied! *hyperventilates*
Fangirling aside, we don't see much of Raffe until about two thirds or 70% into the story. Or rather, we don't see Raffe and Penryn together again until that part. But trust me, the long wait actually contributed to the overall
impact
of their reunion. From there, the romance gets rolling and there's no stopping it. Susan Ee clearly knows how to write a subtle yet powerful love story, giving intense, heart-melting scenes without giving too much away. IT IS SO DAMN GOOD.
My favorite scene: CLICK
(view spoiler)
[When Raffe held Penryn tightly and he sobbed. Some of you may not realize it at first reading, but he actually did. Go read and check chapter 61. (hide spoiler)]
THE CLIMAX:
Uriel takes a deep breath. "Finally," his chest swelling with satisfaction. "It's time for Judgment Day. The legendary apocalypse is HERE!"
The sad thing about sequels, is that they're always being compared to their predecessors. I've already read some reviews saying that Angelfall is better than this one. In my honest opinion,
World After
is just as outstanding as
Angelfall
but it has a different
purpose
. There are a lot of questions in the first book that needed to be answered and explained. In this sequel, we find out what the angels are up to, what the scorpions are for, etc, before we finally move on to the most exciting parts─such as Uriel's fake apocalypse─which is as adrenaline-rushing as the resistance attack in the first book. The fabricated apocalypse, the 1920's theme complete with outfits and masks, the massacre, the sword fight in the end ─ it's all PERFECT.
Overall,
World After
is an effortlessly magnificent follow-up to Angelfall. If anything, it's actually more hilarious and better in the romance and gore department. Now I'm sooo ready for the third novel!!
**If you've already read WORLD AFTER, we encourage you to join the FANS OF ANGELFALL group and discuss the book with us here:
https://www.goodreads.com/topic/show/...