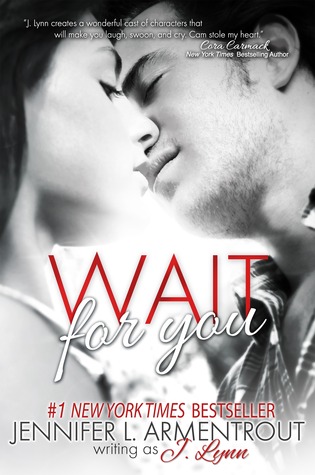 Wait for You
by
J. Lynn
Publisher: William Morrow
Series: Wait for You, #1
Genre: Contemporary, New Adult, Romance
My rating:
4 of 5 stars
3.5 STARS rounded up to 4
Sigh. I guess I'm getting tired of all the excessive & repetitive words used to describe a too-hot/sexy main male character. It's starting to annoy me. I literally rolled my eyes when Cam was driving shirtless─
YES, SHIRTLESS, and I know I was supposed to melt into a puddle of hormonal goo but I didn't
─and Avery praised him so much in her head that I wanted to yell "Shut up already!."
I know
this is a New Adult book and it's understandable that their attraction is lust-driven, but I believe all the fangirling for the male's physical attributes could be lessen.
To tell you what, I LOVE DAEMON from Obsidian and I think it's safe to say Cam is so much like him. Hot, witty, thoughtful, blah blah you know it. The descriptions for Daemon were also overdone & sometimes irritating, but he managed to win my heart nonetheless. Cam? Not so much.
The plot is good but I don't see anything extraordinary about it.
(Ugh I sound like a bashing reviewer! Believe me I'm just being honest!)
It's like J. Lynn was struggling to write a contemporary and put as much depth as she could to the story.
I respect this is the author's personal fave that she's ever written
(perhaps it's close to home?)
but Obsidian will remain my favorite book of hers. ♥
Anyway, if you're looking for a steamy slash light contemporary romance and you don't mind the things I mentioned, then you're going to love this! Give it a try. :)
View all my reviews