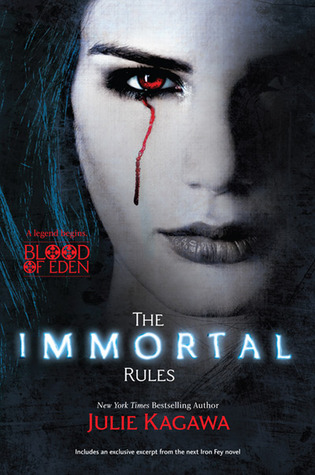 The Immortal Rules
by
Julie Kagawa
Publisher
: Harlequin Teen
Series
: Blood of Eden, #1
Genre
: Paranormal, Dystopian, Romance
My rating
:
4 of 5 stars
I can say it's one of the most convincing vampire stories out there and it's set in a dystopian society so it's all fresh and exciting. I kind of got disappointed in the first part though. I thought Kanin was the main male character and I was already rooting for him. I didn't have any idea until Zeke came out of the picture.
(You see, I don't usually read synopsis, I mean not throughly, so I often find myself surprised & unaware of names, basic roles and whatnot. *haha*)
I really REALLY like Kanin and his strict but caring demeanor however it turned out he's just Allie's sire and nothing more. *sigh.*
Anyway, the romance between Allie and Zeke is pretty good but I'm afraid it's not going to be one of my favorites. Friendly and
nice-guys-from-the-start
just don't work for me. I don't have the "bad boy syndrome," it's just that in books,
the love building should not come fast and easy
for me to believe it. I should see it
growing
and it's so hard to make a distinction when the guy is already
so
nice to the girl in their first encounter. I'm into male book characters who are aloof, confident but not cocky, and nice but not so friendly. I want a good guy who builds his walls up high so when he falls inlove, let his guard down, and finally give in to his feelings, I'll be able to tell his love is real.
(example: Raffe from Angelfall.)
Those are just my concerns, plotwise it's fantastic, original and truly enjoyable. ☺ I'm reading the 2nd book tonight!!!
View all my reviews