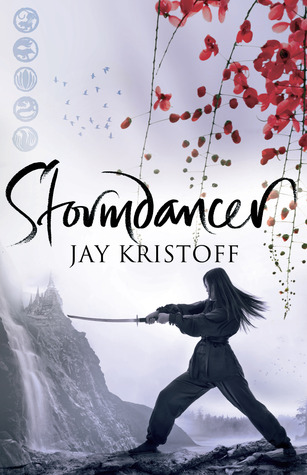 Stormdancer
by
Jay Kristoff
Publisher: St. Martin Press / Tor UK
Series: The Lotus War, #1
Genre: Fantasy, Young Adult
My rating:
4 of 5 stars
4 STARS
This is the kind of book that leaves awesomeness behind.
It somehow reminds me of
Daughter of Smoke & Bone
because, well, it's also a fantasy novel
(a japanese steampunk version, that is)
plus there are a lot of terminologies that need some getting used to. In DOSB, there are bizarre creatures with equally bizarre names. In this book though, you have to familiarize yourself with some japanese words/terms.
LOVE STORY
First off, there's only like 5% romance in this book. I'm not kidding. I wish Mr. Kristoff had excluded it from the story because it's pretty weak and useless. So in my opinion, if there's a real
love
story here, it's going to be between Yukiko the heroine & the legendary Buruu (a griffin, half eagle & half tiger). Don't freak out yet! It's not in a romantic way. It's like an owner-pet love that grows from hate, to tolerate, to gratitude, to like, and eventually care.
**To give you a better picture:
Imagine a beautiful, legendary dog (I'm going to use dog simply because I love them) Extinct. Untamed. He hates every human. He hates you. You can talk to each other's mind. He learns to care for you.

Trust you.

And eventually willing to risk his life and happiness for you.
It's sooo well done. Their bond is very strong and incredible that I cried at one part of this book
(considering I'm not a softie)
. I don't usually cry over books. But this one.. *runs and bawls like a baby*
WRITING
The author writes beautiful proses. Beautiful proses that can make you sigh. The only problem is, there's too much throughout the whole story. And when you get bogged down in too many wonderful proses, you lose grip on what is actually happening.
•••
There you go, I don't want to go on & list everything (characters, plot, etc) cause I pretty much said all my concerns already.
I LOVE IT! ♥
View all my reviews