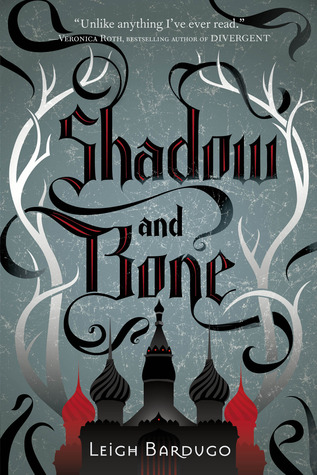 Shadow and Bone
by
Leigh Bardugo
Publisher: Henry Holt and Co.
Series: The Grisha, #1
Genre: Fantasy, Romance, Young Adult
My rating:
5 of 5 stars
(WARNING: EXTREME FANGIRLING & SWOONING AHEAD)
WOW. AMAZEBALLS.
And... I just fell in love with a villain.
(a fan-made video trailer here: http://www.youtube.com/watch?v=n7B033...)
Yes. I ship Alina & the Darkling!
I know, I know! It's so wrooong to like, much worse LOVE an antagonist but having read everyone else's review I learned half the reader's population is also rooting for the Darkling! Don't get me wrong, Mal is also lovable and to be honest I think he is Alina's real love interest *sobs*.. but oh my God the Darkling is so cool & irresistable! And it's clear there's more to him than just being the bad and dangerous guy
(that's why I'm still hoping he ends up with Alina! *fingers crossed*).
Arghh I've never been this conflicted towards a love triangle! Heck, I was never a fan of love triangles in the first place! I STAY AWAY FROM THEM but this one, I couldn't resist!!
The Darkling slumped back in his chair. "Fine," he said with a weary shrug. "Make me your villain." He set his empty glass down and stood. "Come here."

Fear shot through me, but I made myself rise and close the distance between us. He studied me in the firelight. He reached out and touched Morozova's collar, letting his long fingers spread over the rough bone, then slide up my neck to cradle my face with one hand. I felt a jolt of revulsion, but I also felt the sure, intoxicating force of him. I hated that it still had an effect on me.

"You betrayed me," he said softly.
CRAP. I'M TEAM DARKLING FOREVER AND ALWAYS AND EVER AFTER THAT!!!
•••
PLOT, CHARACTERS, AND WRITING
Of course, there's more to this book than just romance
(I just can't help fangirling so forgive me!)
. No matter how good the romance can be, if the story, writing, and everything else sucks, I wouldn't stop myself to give a very low rating. This book may have its own flaws, but Leigh Bardugo did a fantastic, epic job of creating a rich and engaging world that is easy to lose oneself. I loved the plot so much I couldn't put this book down!
The writing is clear, vivid, and effective. I wouldn't be this emotionally invested to the story anyway if the writing is awful.
(I've read a lot of books with good plots but very bad writing. I didn't finish them)
This is easily one of my ultimate-favorite books of all time!!! *celebrates with myself*
P.S.
How do I possibly get an ARC of book 2? I couldn't wait any longer! :((
View all my reviews