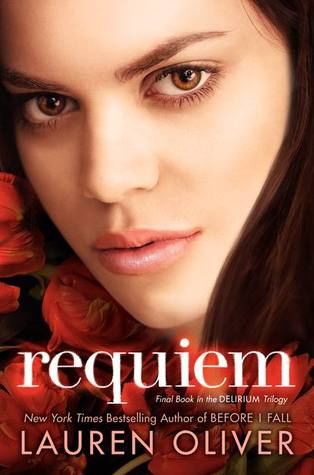 Requiem
by
Lauren Oliver
Publisher: HarperTeen
Series: Delirium, #3
Genre: Dystopian, Young Adult
My rating:
5 of 5 stars
Thank God for another unputdownable read! Lauren Oliver, you brilliant woman.
To be honest, my expectation for this book wasn't very high because third installments are usually boring and stale
(you guys know it!)
. I actually thought it was going to be a snoozefest but I was wrong. Requiem is, in fact, the
most action-packed
book in this series.
Requiem is narrated by both Lena and Hana. The first time I heard about it, I wasn't very thrilled. I guess I wasn't exactly the most interested person in what was going to happen to the "cured" side. I thought Hana's POV would be,
again
, a snoozefest. And
again
, I was wrong.
Two different girls. Two different worlds. Two different POV's completing the plot and bringing everything together.
IT'S FLAWLESS.
I could
see
the Wilds, the mud, the wild-eyed and skinny Invalids. I could
smell
the awful stink, the fire, the burning camps. I could
taste
fear, anger, and pain.
And I could
feel
everyone's hope to strike back, the determination to live─to be
alive
.
I LOVE EVERYTHING and love the message behind it.
I KNOW A LOT OF YOU are impatiently scrolling down my review to hear about Julian and Alex.
Hah!
. Well, it won't matter if you're Team Alex or Team Julian, your heart will go out to both of them in this book. But yes, in the end Lena had to choose one. And she did.
The ending to this book is left very open and it may annoy some of you.
(I myself couldn't believe there's nothing more after the last page!)
But I think the last words provide the answer:
You do not know what will happen if you take down the walls; you cannot see through to the other side, don't know whether it will bring freedom or ruin, resolution or chaos. It might be paradise or destruction.

Take down the walls.
I love it and I am satisfied so I am giving this
5 STARS.
:)
View all my reviews