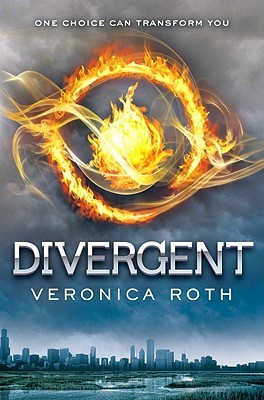 Divergent
by
Veronica Roth
Publisher: Katherine Tegen Books
Series: Divergent, #1
Genre: Dystopian, Romance, Young Adult
My rating:
5 of 5 stars
Where do I start with this one? The book that I was instantly drawn into. The book that has appealing characters I've learned to love. The book with a stylised world I got myself eagerly immersed into.
This is certainly one of the most awesome YA Dystopian Novels I've ever read. No wonder it won the
Goodreads "Favorite Book of 2011"
award. I wasn't even halfway through the book and I knew, just knew, it was going to be on my ultimate-fave list pretty soon.
I found the premise to be cool - a society divided into 5 fanctions - Abnegation (the selfless), Dauntless (the brave), Erudite (the intelligent), Amity (the peaceful), and Candor (the honest).
The characters are believable, unique, and badass. The most wonderful thing about them is: they're memorable. We all come across characters that no sooner than we turned the last page, they're out of our mind. Well, prepare yourself for Divergent. Tris, Four, Peter, and company certainly don't want to be forgotten.
The romance,
oh, how I loved the romance in this book.
Have I mentioned how much I dislike insta-love stories? What Tris and Four have here is different. A growing feelings between an intimidating male and a feisty female. A love that isn't rushed and not too slow. Oh, I'm totally captivated.
Overall,
I THROUGHLY LOVED THIS BOOK.
Read it before the movie comes out on March 2014! Book > Movie, you know how it is!
View all my reviews