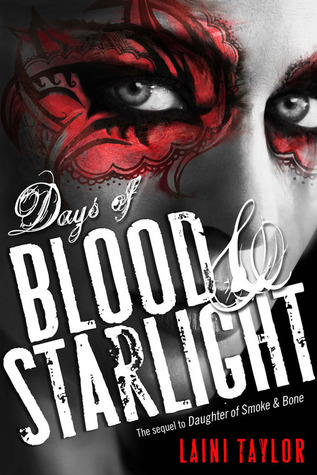 Days of Blood & Starlight
by
Laini Taylor
Publisher: Little, Brown Books for Young Readers
Series: Daughter of Smoke & Bone, #2
Genre: Fantasy, Romance, Dystopian
My rating:
5 of 5 stars
(WARNING: Contains spoilers from 'Daughter of Smoke & Bone #1')
"Angels! Angels! Angels! Holy hell, Karou. In the sky. Hundreds. HUNDREDS. The world. Is freaking. OUT."
INTENSE. DARK. EXCITING.
Days of Blood & Starlight
is a story of grief, betrayal, love, hope, and WAR. There are no guns, bombs, or poison gases - only Angels and Chimaera who mercilessly slaughter each others' race. (And yes, they're coming into the human world on book 3!)
"You know how, at the end of Romeo and Juliet, Juliet wakes up in the crypt and Romeo's already dead? He thought she was dead so he killed himself right next to her?"

"Well, imagine if she woke up and he was still alive, but..." Karou swallowed, waiting out a tremor in her voice. "But he had killed her whole family. And burned her city. And killed and enslaved her people."
That's where this sequel begins. Akiva, an angel, and Madrigal, a chimaera, fell inlove with each other and dreamed of a world of peace.
That dream didn't come true.
The chimaera was slaughtered. Their cities were destroyed. Loramendi was completely razed with nothing left but a thick layer of ash on the ground.
And all of this was caused by Akiva.
He thought Madrigal was dead so he took his revenge on the chimaera for executing his lover. Well, HE'S WRONG.
She is alive.
And she's going to make Akiva and all the angels pay.
The destruction, death, and heartbreak overwhelmed me in an agony that was almost physical. EVERYTHING WAS VERY REAL. This book definitely has the best portrayal of war in a dimensional world because even though it's fantasy,
it is very realistic.
The pacing was a little slow at first and there were long winded thoughts at some parts of the story. BUT for me this book is better for it. It's like it was
preparing
me for something. Something's brewing. Something big. And guess what?
I still wasn't prepared.
I found myself so deeply submerged into Karou's world that I was so blown away by the unveiled surprises ― yes, surprise
s
with the 's.'
Overall, "Days of Blood and Starlight" is as beautifully crafted as "Daughter of Smoke & Bone" but more mature and with much darker aspect of war. It's bittersweet. It's beautiful. It's a MUST read.
Brimstone and Karou.
Photo from calivel.deviantart.com
View all my reviews